in partnership with City of Arvada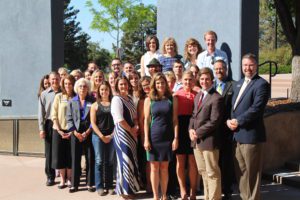 It's back…we are excited to kick off Leadership Arvada 2017-18. Do you want to learn more about the community you live or work in? Would you like to increase your circle of influence? Apply today for this powerful program!
Why Leadership Arvada?
Leadership Arvada was created in 2009 as a platform for current and future leaders to learn more about the inner workings of the community and ultimately make a difference! Throughout the 9 month long program you will gain in-depth knowledge about Arvada's history, government (local & county), economic development, Arvada's arts & culture scene, public safety, the non-profit community and more!
You will learn from industry experts how to communicate more effectively, network like a pro and develop your personal style.
Who?
Space is limited to 25 people. Candidates for the program come from diverse backgrounds and each person contributes to the group dynamic. Participants must be able to commit the time needed for completion of the class & service project, eager to learn and willing to get involved.
When & Where?
First Session: Two-day kick off, September 7th & 8th   8am-5pm.  We start with an official welcome from Mayor Marc Williams and continue the next two days packed with team building, educational speakers and a day at the ropes course.
Regular sessions: Second Friday of each month 8am-5pm. Location varies.
Graduation: Friday June 8th, 8am-10am. Participants must not miss more than 2 sessions to achieve certificate of participation.
How?
A selection committee will make the final determination based on applications submitted. Please use link to submit you application. Questions 303-424-0313 or email lynn@arvadachamber.org. DEADLNE IS JUNE 30th at 5:00pm.
Tuition is $500. Fee covers all materials, meetings, meals and graduation.
Applications are CLOSED!